How to Do USB Flash Drive Data Recovery?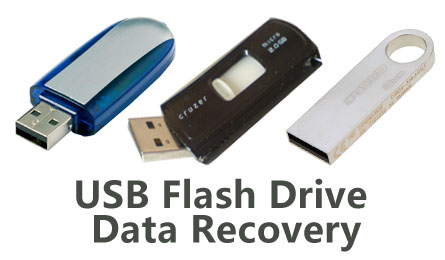 It's no doubt that USB flash drive/flash storage media, so far, is the most convenient tool to bring our data anywhere. And the size of this tiny device also becomes bigger from generation to generation. It's a common thing to save almost all of our data, including the important ones like company's document project into this small storage device. Mobility is the reason why so many people do this.
However, this could lead to a serious problem if you accidentally deleted important files. It's because, unlike deleting files on your computer's internal hard drive, when you delete files on USB flash drive, it'll be deleted permanently. Yes, without going into recycle bin first.
Or maybe in the worse situation, you just reformat the hard drive because it asks you to fix some problems. Well, it happened to most of us, especially, if you're not really into techie stuff.
So what's the solution to your problem? First, don't panic. It won't solve your problem. Instead, you should download USB flash drive data recovery software. And please don't put new files to the flash drive or USB flash drive if you realize you have lost your data. If you put new files to the USB flash drive, the new files would overwrite the lost data – this would narrow the chance of data recovery.
Just download USB flash drive data recovery software offered by 7thShare. Why? Because it offers you an easy way to recover your files from flash drive/USB flash drive, as well as recover data from Hard Drive. And it supports almost any type of files, which is why it could be called as the most reliable USB flash drive data recovery software.
Moreover, this software is perfectly suitable for both Windows OS and Mac OS. So you shouldn't worry if you can't use it on your computer. Download the software first via the button below, and learn how to use it from the instruction below.
How to Use 7thShare USB Flash Drive Data Recovery Software?
1. Connect your USB flash drive and run 7thShare
The first thing you have to do, of course, is connecting your USB flash drive to your computer. And make sure it's detected and readable. Try other USB port if it isn't detected by your computer.
After that, run 7thShare Data Recovery, and then choose the file types you want to recover, click on "Start" button.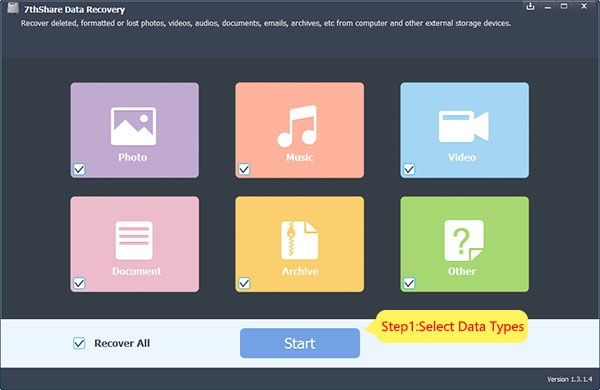 2. Scan for your lost files.
Now, just click the USB flash drive and click on the "Start Scan" button to start the scanning process. 7thShare Data Recovery will scan the USB flash drive and find all lost files.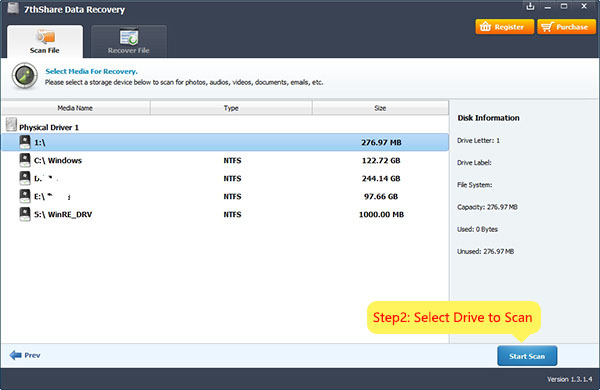 3. Check the preview and let the magic begins!
After scanning, you'll see the preview of all the lost files which has been gone from your USB flash drive. Now, simply choose all the files you want to recover, and click "Recover" button to start the recovery process. After that, all you need to do is just waiting until the recovery process is completely done. Don't try to open any software because it'll make the recovery process take more time than it should.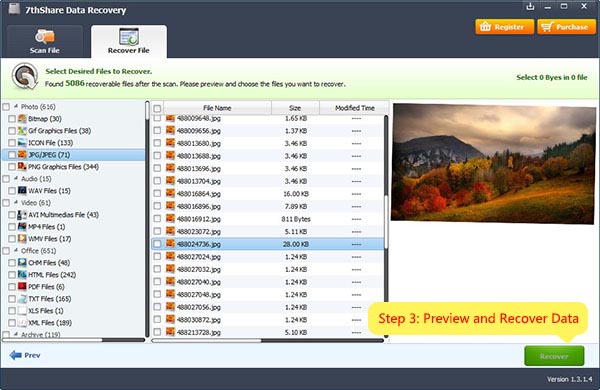 Once it's done, check the default recovery location which is located on your computer internal hard drive. If all the files have been recovered, you can close the software and move all the files back to your USB flash drive. That's how to recover deleted files using 7thShare USB data recovery software.